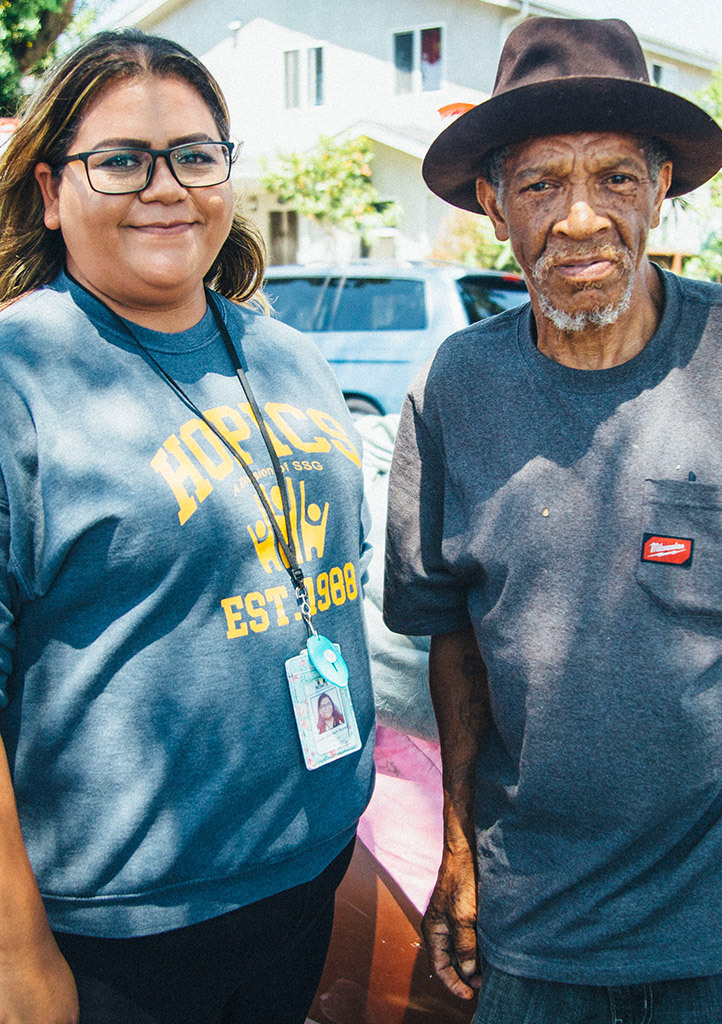 Rehousing L.A. Together.
Together, we are building a Los Angeles where everyone has a place to call home. The people on the frontlines of our rehousing system made more than 84,000 housing placements in the past five years. Every day, they connect our unhoused neighbors to life-saving care, recovery, and homes. Scroll down to hear their stories.
They call themselves seed planters, regular people. But they've been through something extraordinary: their own recovery from homelessness. They understand like no one else. They're rebuilding lives and rehousing L.A.
Pamela
Vocational case manager, St. Joseph Center
Pamela was born and raised in South L.A. Her own recovery from trauma makes her a natural at connecting and building trust with those who've lost faith. She's now a case manager for a skills training program, helping participants access resources to meet basic needs--housing, food, mental and physical health care and more.
Scott
Peer Specialist, Veterans Administration
Scott grew up in Tujunga. He experienced multiple bouts of homelessness before a case manager helped him into supportive housing for veterans. He spent 6 years as an outreach worker, and he now provides support to dozens of veterans in his building, helping them stay housed and connected.
"

I've seen the hurting and the helpless and the destitute, I've seen it first hand, I've been there first hand. When there's human suffering, I think we all have a choice. We can either look away or we can address it.

"
Scott works with veterans at a VA supportive housing building. There, he offers hope and assistance to others who are going through experiences he has already survived.
Scott has experienced both homelessness and addiction and is proud of his recovery from both. Through his experiences, he has learned how best to approach a neighbor in need: If you accompany someone and walk alongside them, they can achieve more than they thought possible.
Scott says his main job "is to keep people housed." With compassion and first-hand understanding of his clients' unique situations, Scott helps previously unhoused veterans readjust to housing and recover from their experience with homelessness. He offers the same hope, dignity, and support to veterans that helped him succeed.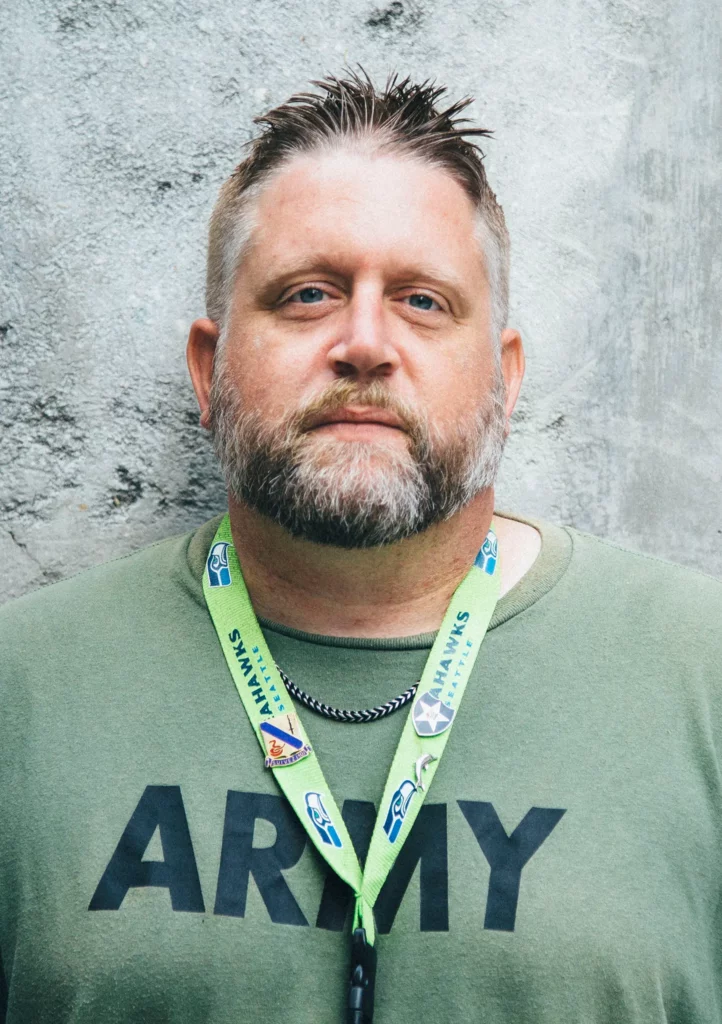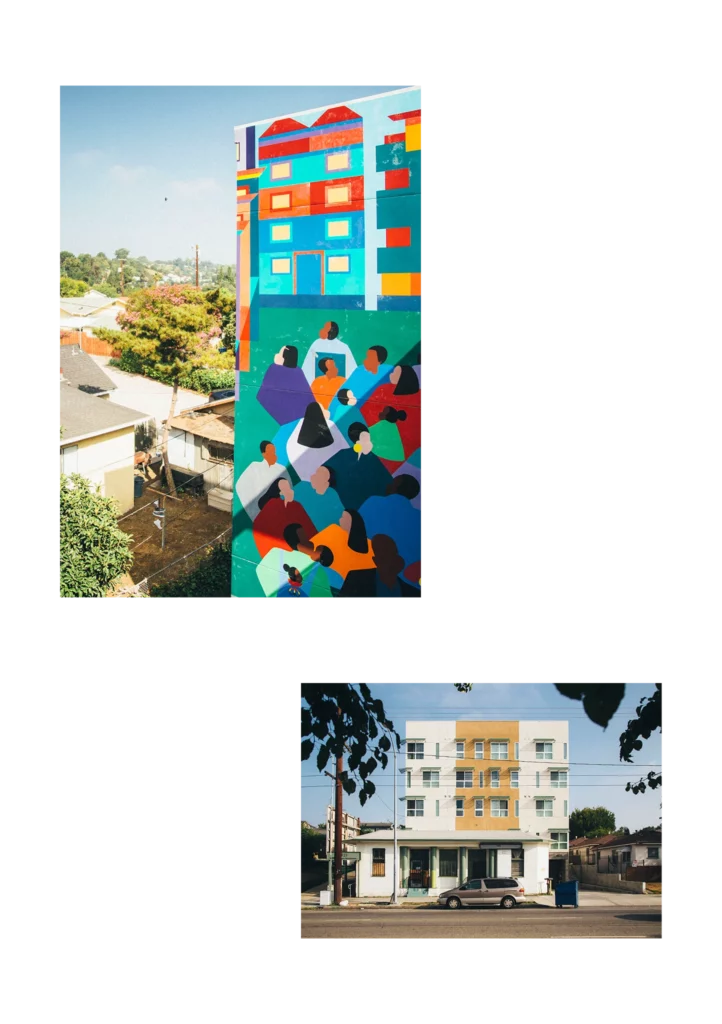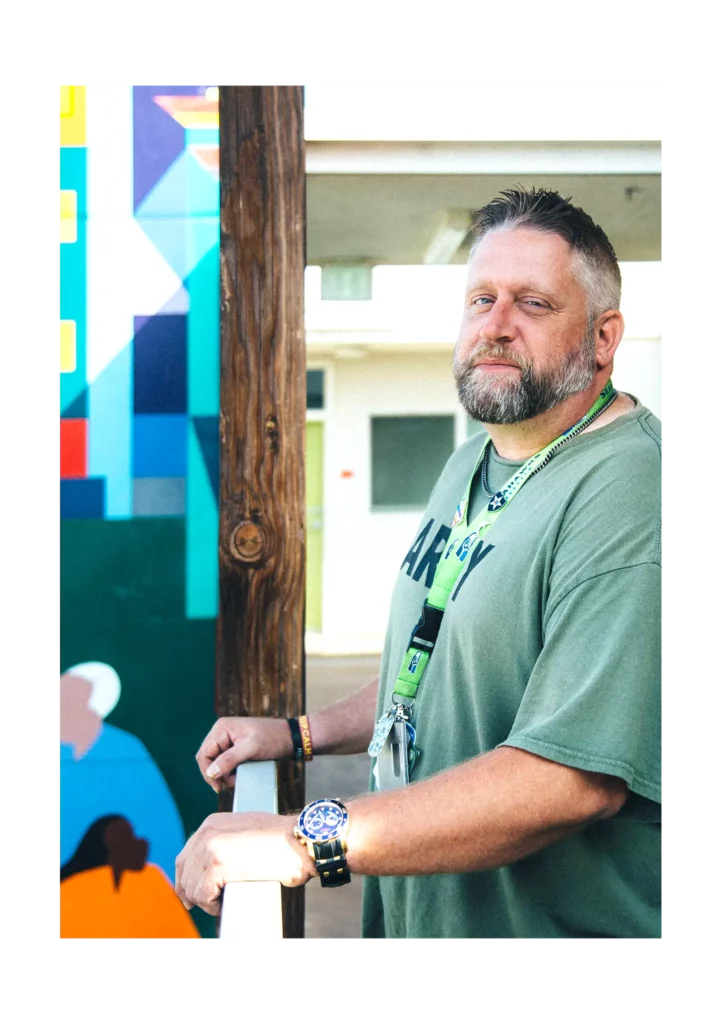 Juana
Outreach Case Manager, HOPICS
Juana grew up in Lynwood, and her experiences with addiction in her family give her a source of compassion that inspires her work. She spends her days on the streets, visiting clients she is helping to rehouse. She brings them food and water, drives them to appointments, and helps them move into shelter and housing.
"

My older sister had an idea of going to Skid Row for Thanksgiving and preparing breakfast. I think that opened my eyes. For a whole street to have people experiencing homelessness? It was crazy.

"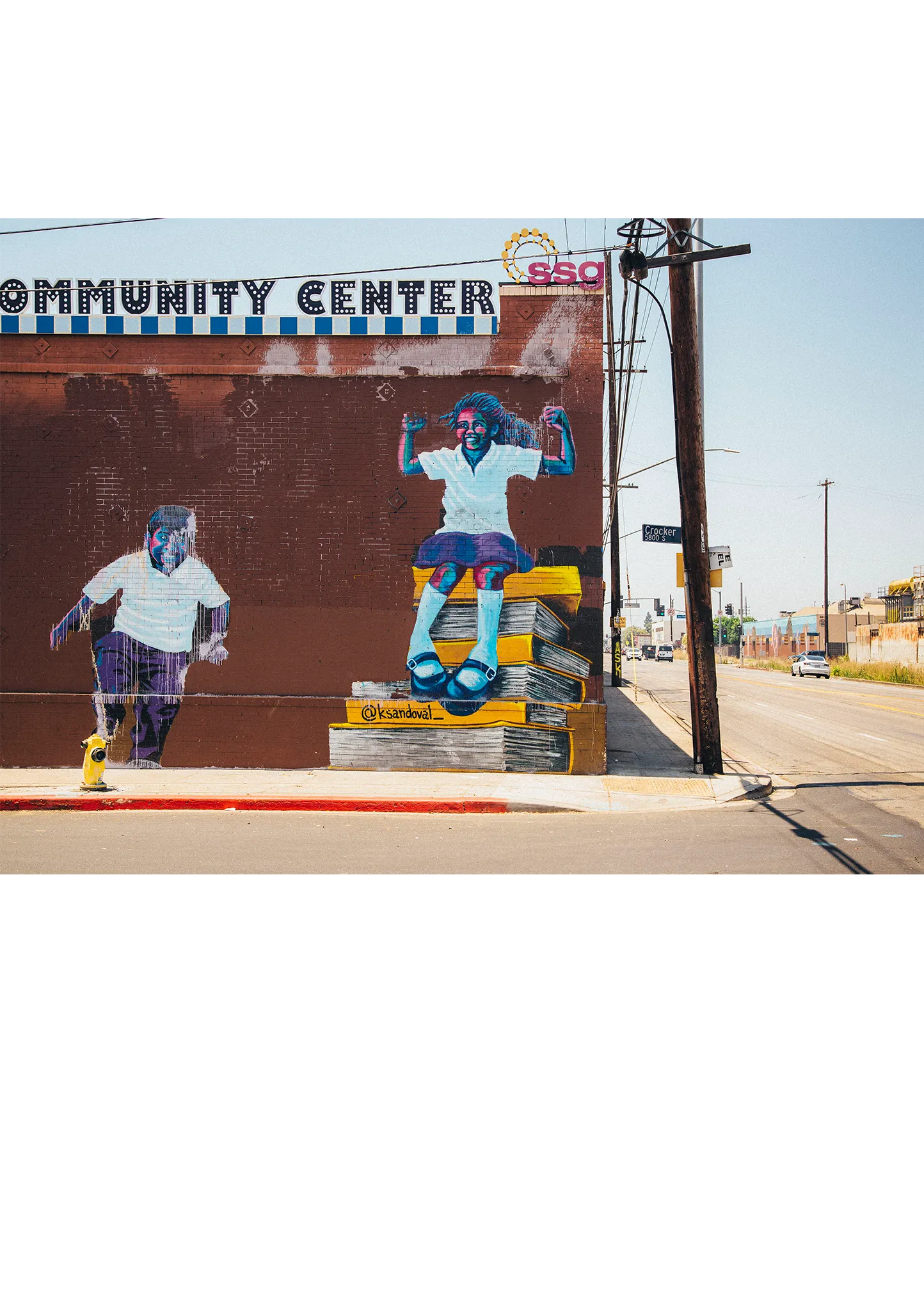 Juana's outreach includes meeting her clients on the streets of Los Angeles and delivering them things they may need while helping them get connected to housing.
Juana was first inspired to combat homelessness as many of us are—by seeing people experiencing homelessness in her city and knowing it wasn't right. After volunteering on Skid Row and experiencing the traumatic impact of her brother's struggle with mental health and addiction, she wanted to be a part of the change to help others.
Juana is most people's first contact with the rehousing system. She helps people become "housing ready" by getting them the necessary documents and assessments they'll need to apply for housing, like IDs, benefits, and certifications. Then, she serves as a bridge to connect them to housing teams to find them homes.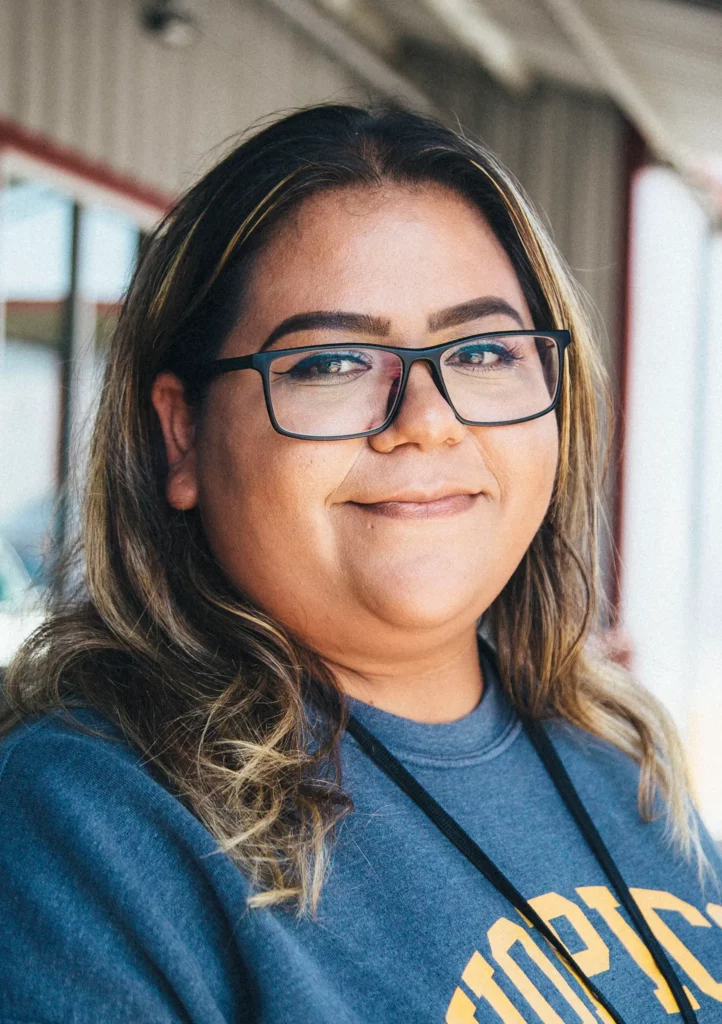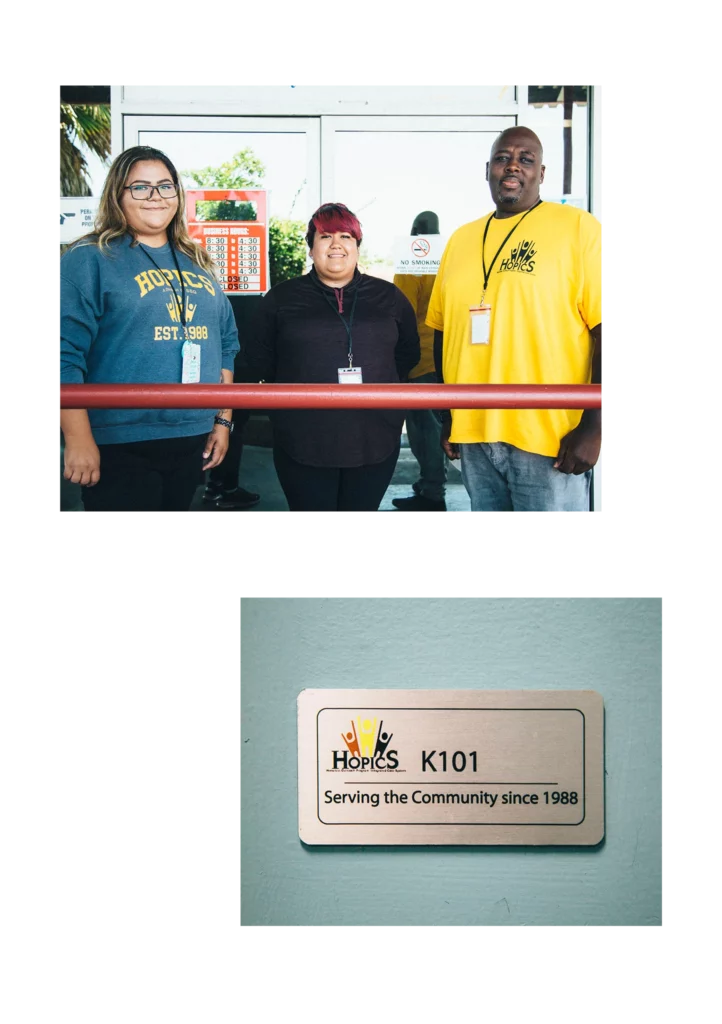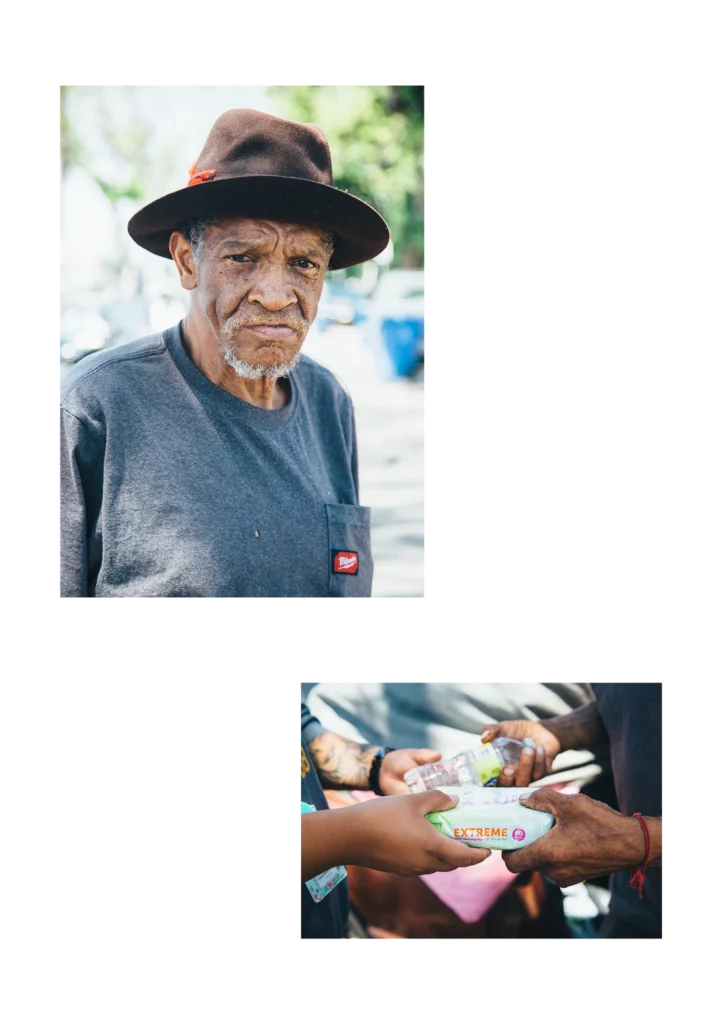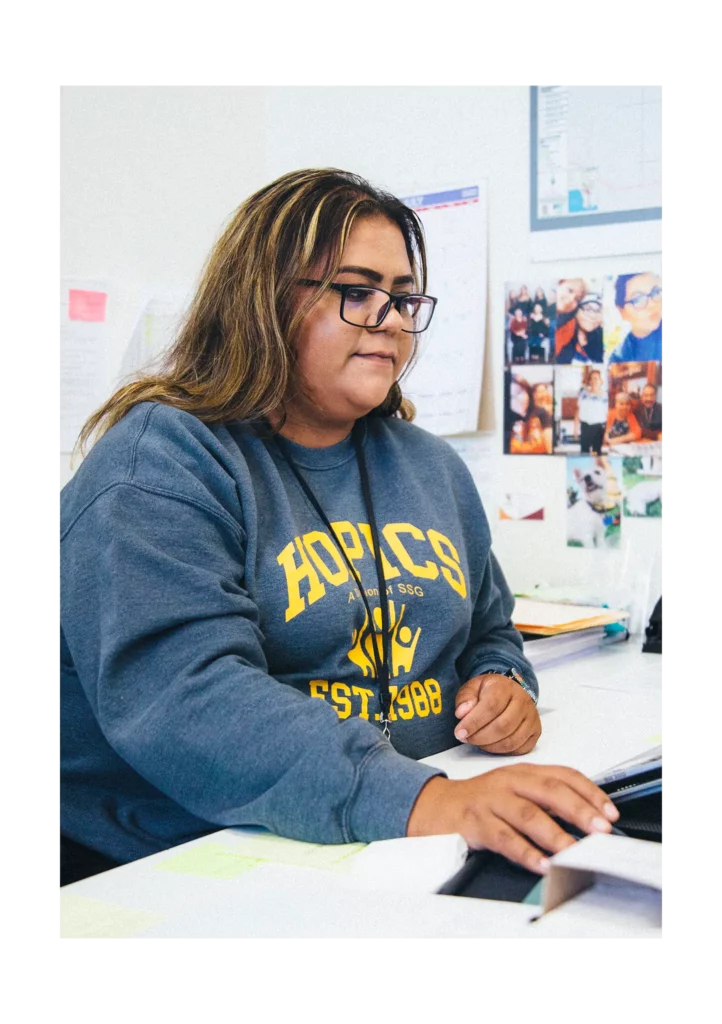 Omar
Student and Caregiver, rehoused by LA Family Housing
Omar first experienced homelessness as a teenager in North Hills with his mom, who was navigating health challenges. He's spent eight years in supportive housing with her as her primary caregiver. He plans to become a social worker, because he wants to help people the way service providers have supported him.
"

In the next few years I hope to reset my life to before everything started. I want to get into psychology or social work and help people, get a stable job. I want to give back.

"
Omar's supportive housing community serves as a place to grow personally, connect with others, and enjoy hobbies.
"It's not healthy for the people to struggle to live… because that's not a way to live," shares Omar. He knows the struggles to survive firsthand, having had a tumultuous housing situation since childhood. He and his mother went from place to place, struggling to meet their basic needs until connecting to supportive housing services.
Supportive rehousing provides a stable foundation for Omar and his mother to build back their lives. It's not an easy fix, but with a team of supportive service providers and their own hard work, change happens. Omar can now prioritize his wellbeing, education, and career goals and is hopeful about his future.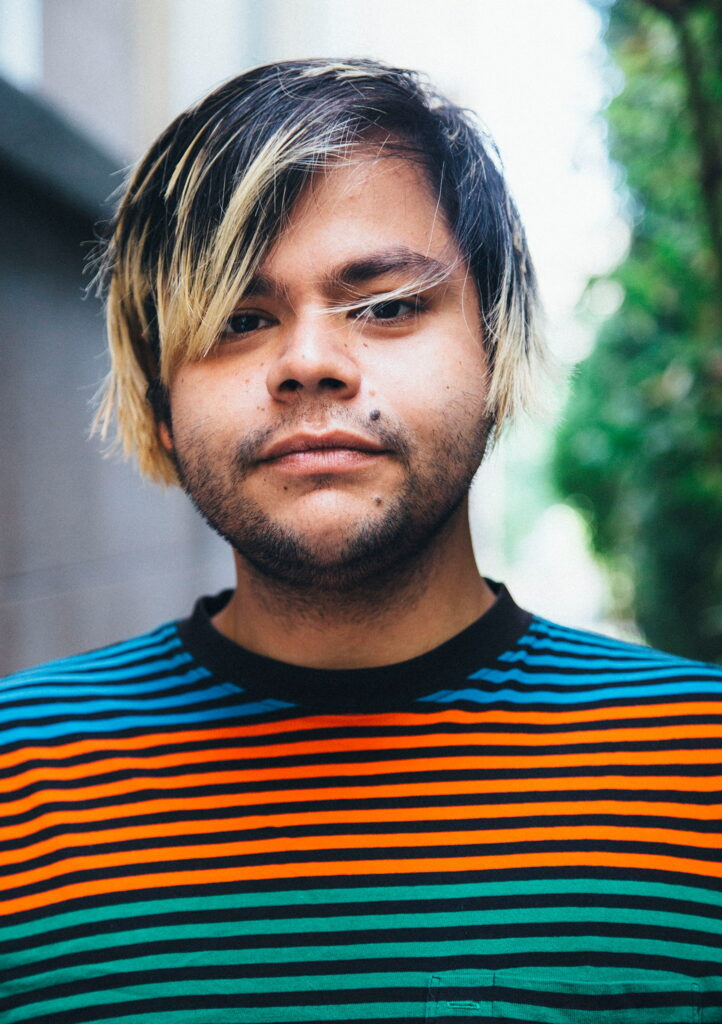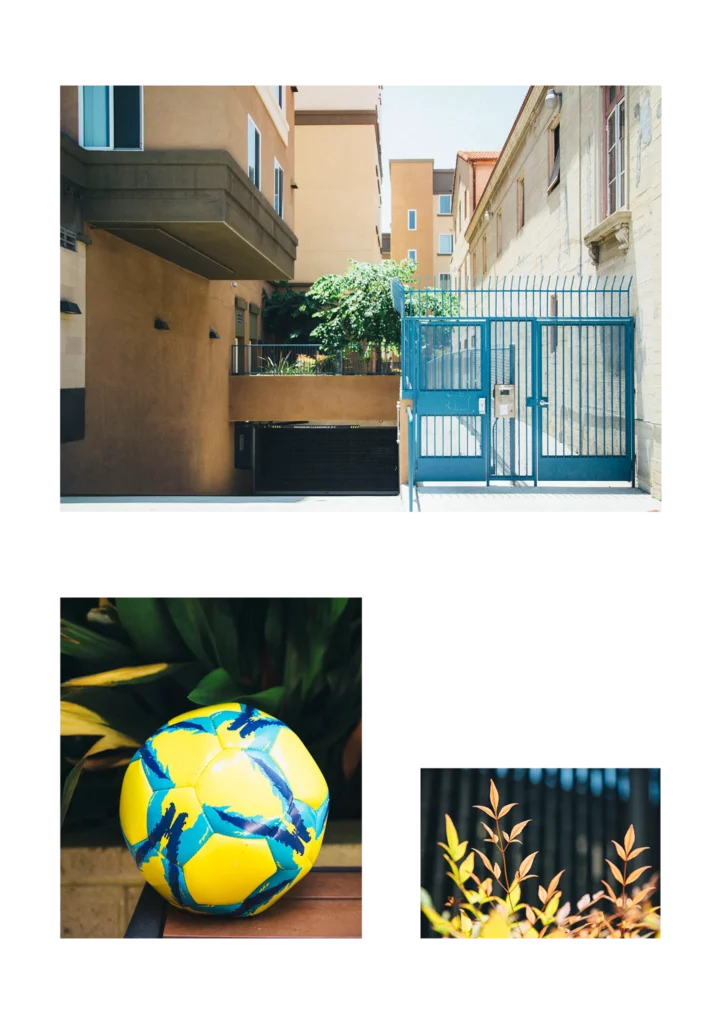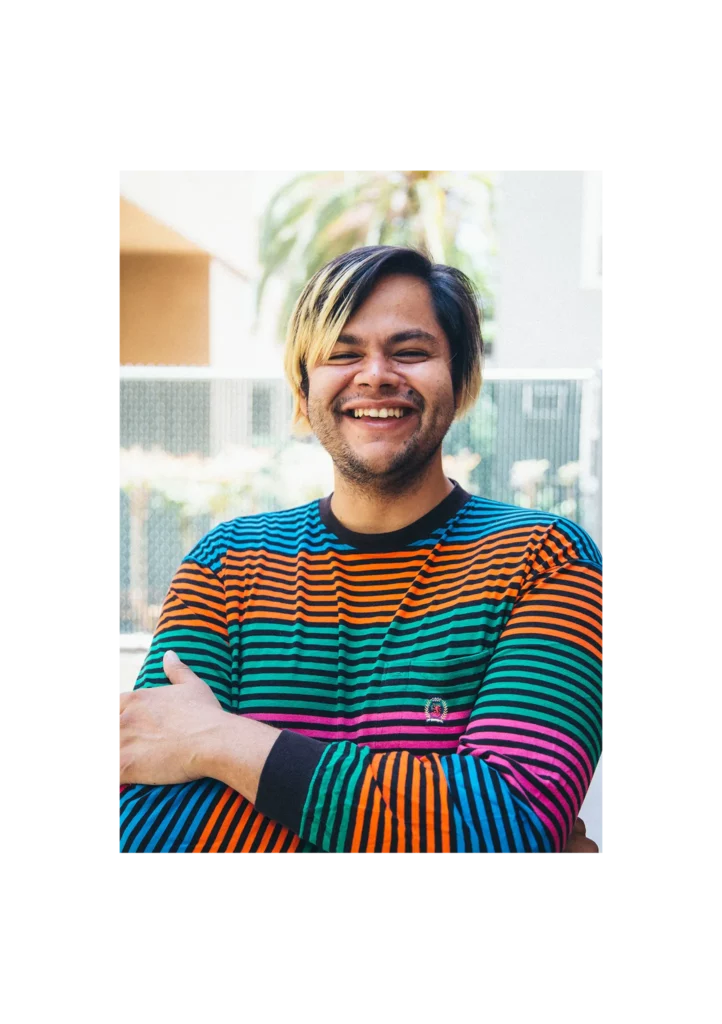 Giulianna
Associate Director for Housing Location, Union Station
Giulianna was a runaway emancipated youth that endured trauma. She now connects landlords and property managers in East Hollywood and the San Gabriel Valley with formerly unhoused residents who are rebuilding their lives with the supportive services she and her team provides.
"

I was an emancipated and homeless youth and I've always really wanted to advocate for others, especially folks experiencing homelessness in Los Angeles.

"
Richard is one of Giulianna's clients who has experienced homelessness for decades. Giulianna and her team has helped Richard get and stay in housing in Hollywood.
With her support, Giulianna's clients have a higher likelihood of staying housed. Giulianna serves as a resource and mentor to her clients. And she doesn't do it alone—landlords, property managers, and social workers all work with her clients. This teamwork helps Giullianna's clients get into housing and stay there.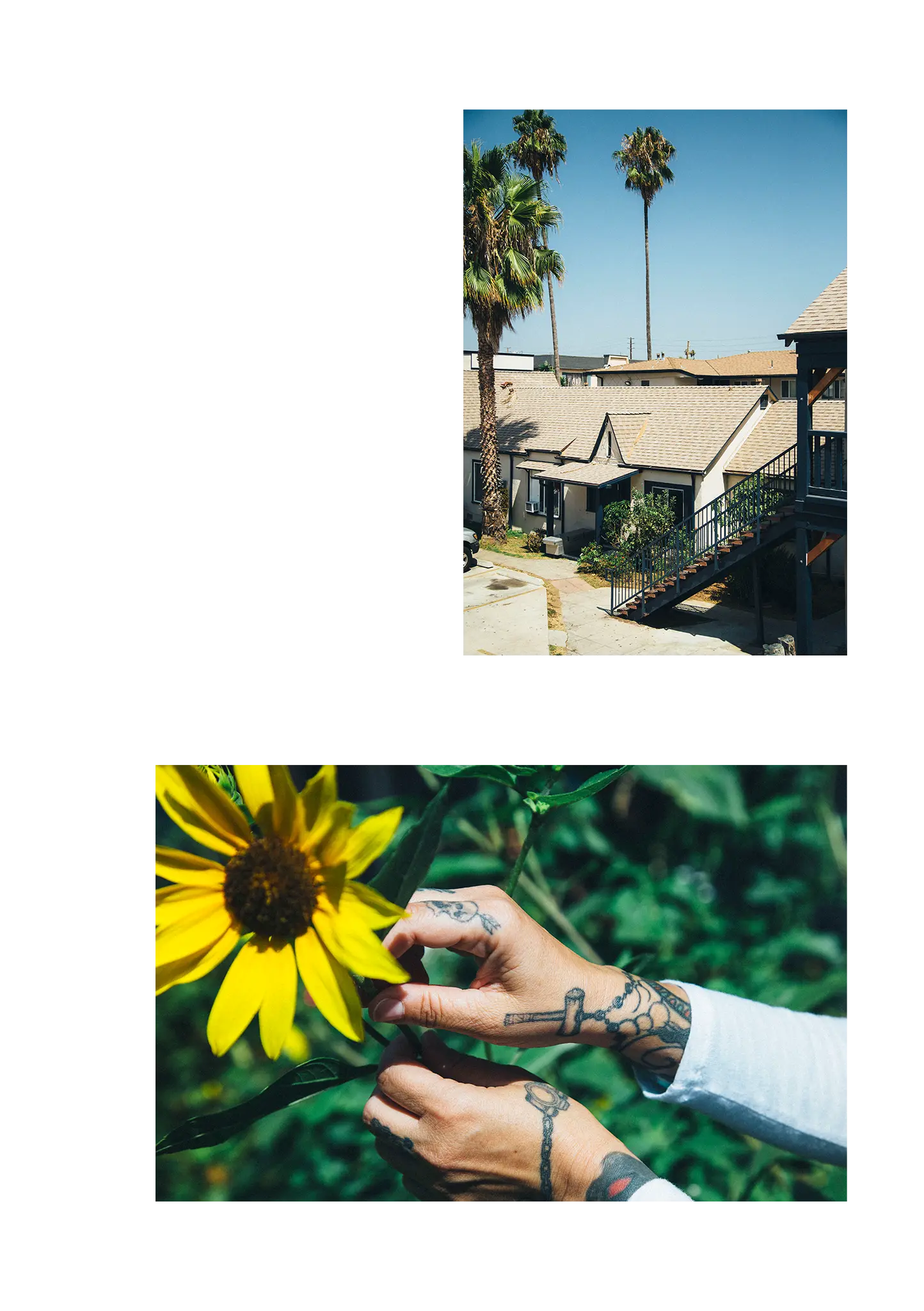 Giullianna experienced homelessness and trauma from a young age, when she first ran away from home. Facing unique challenges and dangers as an unhoused young person who was all alone, she speaks with gratitude about a former boss who mentored her and helped her get into housing. Her experience helps her understand and work with her clients.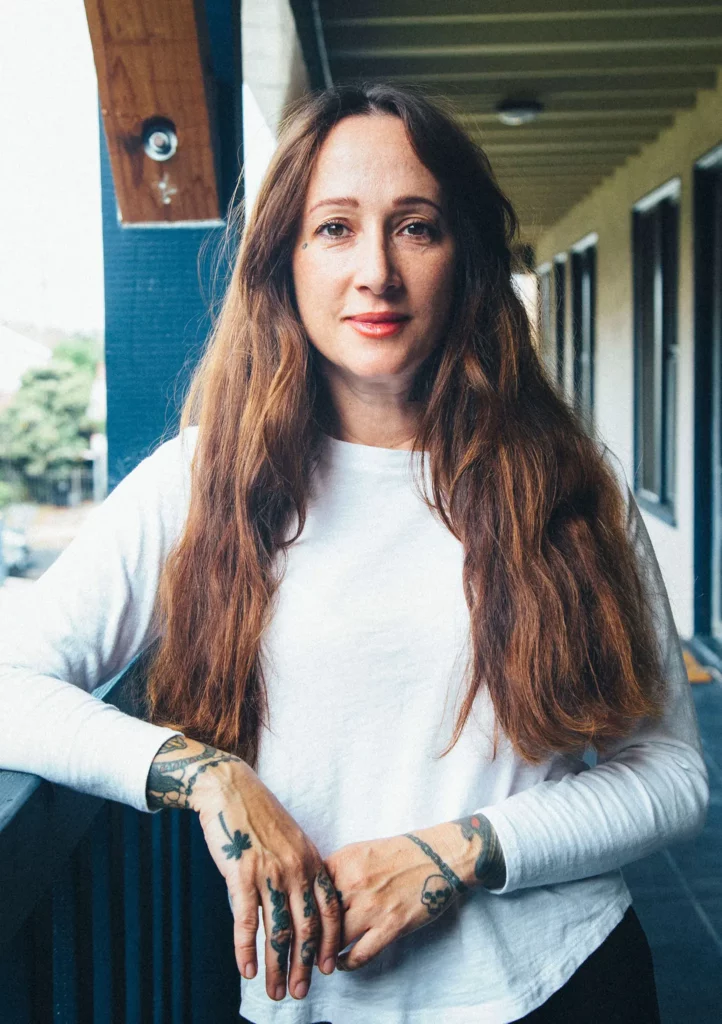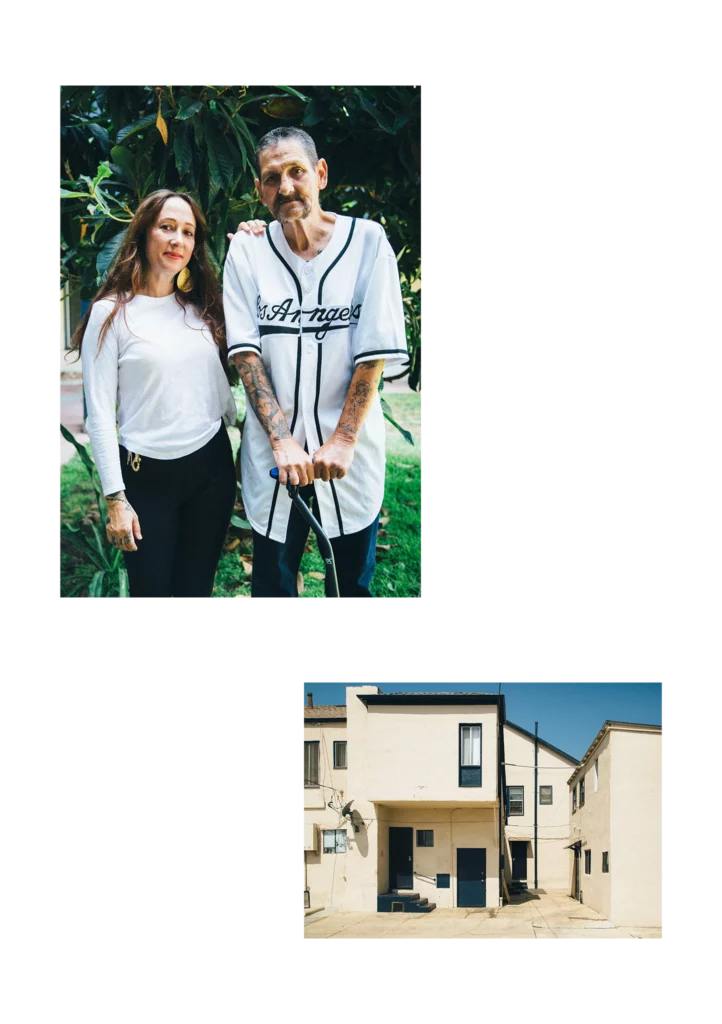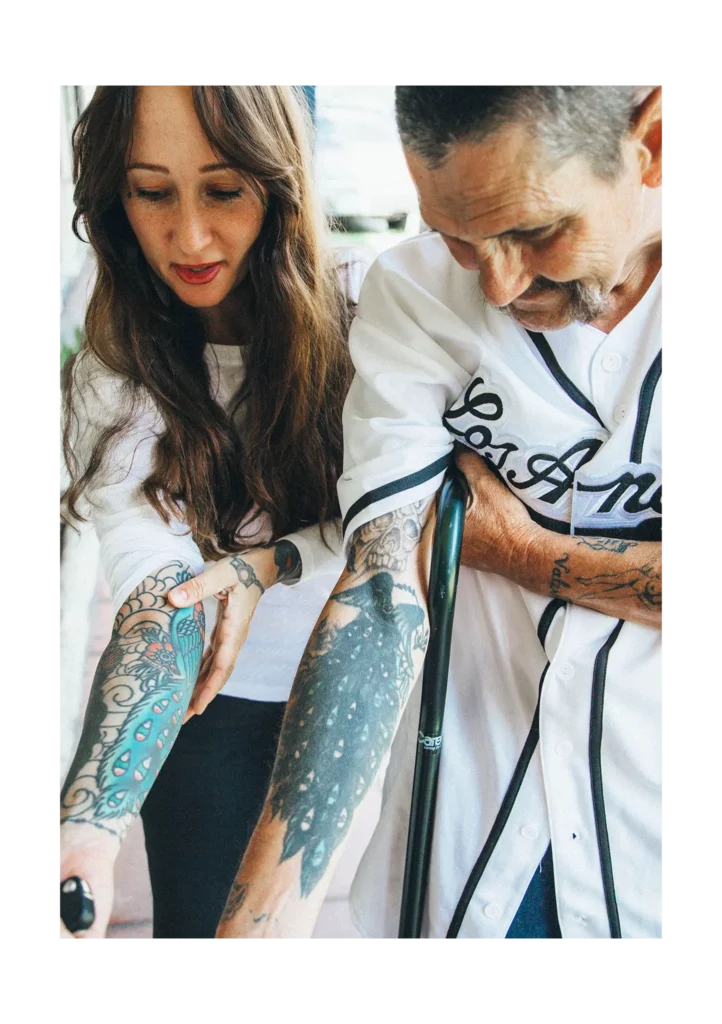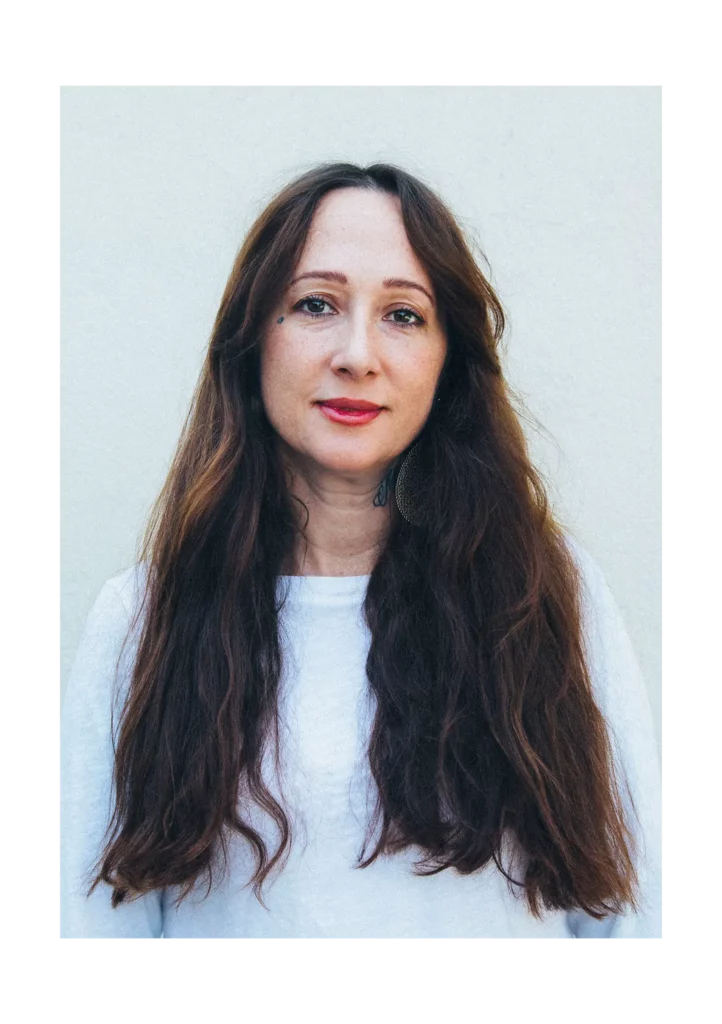 And we've made lots of progress as new challenges arise
Decades of bad policy decisions created L.A.'s housing and homelessness crisis, but our new decisions are making progress every day. We are reversing discriminatory actions that under-built housing for everyone, and withheld loans and housing from communities of color.
Our collective investments have created more housing in the past five years than the previous 30 years. This year's homeless count sheds light on what's working and the challenges that persist. Let's unpack the numbers.
3-4 years to end homelessness in L.A., if no additional people became homeless
Last year our system rehoused 21,213 people—nearly one-third of the people experiencing homelessness at any point in time.
If we could stop the flow of people falling into homelessness, we could end homelessness in L.A. in just 3 to 4 years. But people are falling into homelessness faster than our system can rehouse them due largely to rising housing costs, lack of affordable housing, stagnant wages, and the legacy of systemic racism.
More than 84,000 housing placements in the past five years
That's a big number (nearly one-third of the total people experiencing homelessness in that time) and would end homelessness in most states, but too many people in LA are still unhoused. Systemic root causes of homelessness like lack of affordable housing remain and make this work heartbreakingly difficult. Working together, we can bring more people home.
30% of unhoused people are in shelter
More people than ever are in shelters, known as "interim housing." On count day in February 2022, L.A. County was sheltering 20,596 people (up 12% from 2020) and L.A. City sheltered 13,630 (up 9.6%).
The uptick in shelter numbers to nearly 30% of people experiencing homelessness was made possible by our investments in new shelter options like A Bridge Home, Tiny Homes, Project Roomkey and Project Homekey. The increased availability of shelter–57% more beds in the past four years– helped move people through the rehousing system faster.
17% increase in visible belongings and tents due to Covid-19
Our eyes aren't deceiving us. The life-saving measures we took during Covid ensured that—just like L.A.'s housed residents—our unhoused neighbors could practice social distancing. Due in part to a pause on encampment interventions, 17% more tents, vehicles, and makeshift shelters were visible in 2022 than in 2020–with fewer people in them. Since the count in February, a record number of cleanups have been underway, most of them following trauma-informed best practices developed by LAHSA to give people the best chance at settling into housing.
49% more people with serious mental illness or substance use moved inside into shelter
COVID exacerbated mental health suffering and substance use among the housed and unhoused alike, but those experiencing homelessness have a significantly greater chance of overdosing: 35 times more than those of us who are housed, highlighting the importance of stable housing for people's physical and mental health. This year, we were able to bring nearly twice as many people experiencing homelessness who report serious mental illness or substance abuse into shelter: 48.5% more, from 2,697 in 2020 to 4,005 people.
Homelessness in Los Angeles is a crisis decades in the making. But we are making progress every day.
Every day, we help neighbors out of homelessness, and work on repairing the flawed systems that failed them.
Root causes that drive homelessness include inadequate health and mental health systems, skyrocketing housing prices, stagnant incomes and policies that withheld wealth and opportunity from people of color.
We are just beginning to reverse these trends by increasing coordination and investment in our safety net systems, increasing housing supply, and working to dismantle discriminatory housing practices.
L.A. County is focused on rehousing our neighbors faster and expanding prevention.
Led by L.A. City and other independent cities in LA County, we have added 6,176 more shelter beds since 2020 to move more people inside. LAHSA and the rehousing system are making strategic policy changes to move people from shelter to housing faster, prioritizing a central goal: reduce unsheltered homelessness.
Though shelter is not a long-term solution, getting people sheltered first makes the transition to permanent housing more effective.
L.A. has created more affordable housing in the past five years than the previous 30 years.
But it's only a start to overcome decades of bad policy decisions that constricted housing supply, and left us with the same amount of housing for our current population of 10 million as we had for when it was only 6 million. Since 2020, we've added more than 1,600 new homes, and more than 6,000 additional homes will open in the next few years.
But we need to move faster and increase our housing supply by 23%, or more than 800,000 units, in the next 8 years to make up for the gap. We have the chance to make major policy changes to step up the pace.
Frequently asked questions
Tell me more.
L.A. County is increasing coordination among mainstream systems–foster care, hospitals, jails and prisons–to better prevent homelessness. We are focusing on emergency shelter to better rehouse people long term. This fall, we will roll out shared success measures and goals to hold our rehousing system accountable and increase coordination. Our 88 city governments must focus on increasing affordable housing.
Each year, more than 21,000 people get rehoused, but more than 80,000 people become homeless. We need to focus on increased prevention efforts in our mainstream systems and increasing affordable housing. Since COVID-19, health authorities recommended against moving encampments, resulting in 17% more visible tents, vehicles, and makeshift shelters–with fewer people in them. Since the count, there's been a record number of actions to help move people inside.
L.A. County's mental health system is shifting strategies to prioritize services, shelter, and housing for those with behavioral health challenges who have been homeless for more than six months, and step up coordination and resources among L.A.'s mental health and health services departments.
While L.A. has created more affordable housing in the past five years than in the previous 30, decades of policy decisions have constricted our housing supply and withheld housing and resources from people of color. We need to increase our housing supply by 23%, or more than 800,000 units, in the next 8 years to make up for this gap. That's five times the speed of current housing production. We need policy changes and public attention to meet this goal and make L.A. more affordable for everyone.
The majority of people experiencing homelessness have experienced trauma and disappointment from multiple system failures. Navigating those failed systems and rebuilding trust takes time and dedicated staff who are often restricted by bureaucratic challenges. This is where LAHSA is zeroing in, making it easier to help people get IDs and social services restored, access health care and mental health support, and take the monumental step of moving into housing, and learning to trust again.
During the pandemic, L.A.'s eviction moratorium, utility assistance, and federal and state unemployment relief helped prevent more homelessness. L.A. County is working to improve our safety net and prevent more homelessness by improving connections between mainstream systems. This includes pilot programs to predict and prevent homelessness; rental subsidies and shallow subsidies for the most at-risk households; and improving housing support for people exiting the foster system, jails, and county hospitals.
Take Action
Join Us
Keep in touch with LAHSA, to stay updated on ways to get involved and stay educated about homelessness in Los Angeles.